Sheela Bhatt
in New Delhi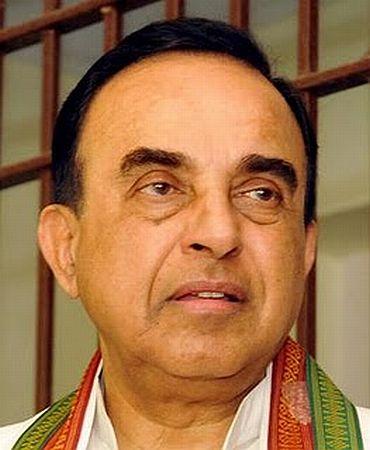 "J

ust wait and see. Halfway through 2-G spectrum case I will bring in Sonia Gandhi into it. Nothing is going to go wrong in this case. This case is going to make a modern, new and clean India," claims Janata Party president Dr Subramanian Swamy, one of the petitioners in the 2G spectrum scam, which is being investigated by the Central Bureau of Investigation under the Supreme Court's supervision.

As the Supreme Court's pressure on the CBI mounts, Dr Swamy feels the thrill of success.

After former telecom minister A Raja's arrest, Swamy is now targeting Raja's mentor and Dravida Munnetra Kazhagam chief and Tamil Nadu Chief Minister K Karunanidhi.

Swamy claimed to rediff.com that Karunanidhi is a worried man now.

Swami and now even the CBI's case is that Raja favoured Swan Telecom to get the 2-G spectrum at a low price. Businessman Shahid Balwa, who was arrested on Wednesday, was a promoter of Swan. Etisalat Dynamix Balwa, which purchased shares of Swan, is also the front company of Balwa. He also launched another company which reportedly gave a loan to a television company ran by Karunanidhi's family. This nexus and sequence of money passing hands is being established by the CBI.
http://www.rediff.com/news/slide-show/slide-show-1-subramanian-swamy-speaks/20110211.htm